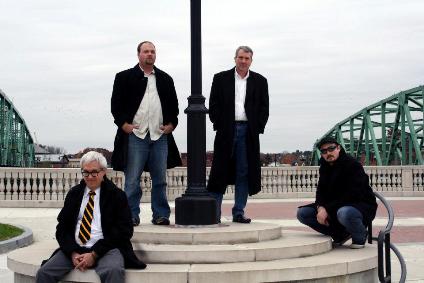 Scott Cleveland, Ryan Bell, George Condon & David Condon
In 1980 George Condon and Scott Cleveland started a band called The Missing Links and over the past three decades since then they have been writing songs while occasionally playing together for short stints. In 2007 a former member got the bright idea of sending a video to a contest. George and Scott thought that that would be a hoot and went along with him. Well, it didn't get them out of their day jobs, but it did get them working on a new CD. So they started out on what is now called Scrap Iron Sun.
Why Scrap Iron Sun, you might ask? Scott was in a local pub one Saturday night with his beer buddy, Marty Howe, when Marty turned to him in a not so coherent state and said, "I feel like I'm getting a rusty tan..," to which Scott replied, "Wha..?" Marty pointed to a metal art sun hanging over the bar and said, "...under the scrap iron sun!" In his present state (at the time) Scott thought that was sheer genius!
Scrap Iron Sun has been described as a "polished garage" band. At their most raucous moments, Scrap Iron Sun conjures up, in turn, The Who's fuzzy, power chord-driven bombast, the loose, over-distorted stomp of Neil Young, and even the halting, electronic-tinged lurch of Devo. The band's more reflective songs combine the melodicism and vocal harmonies of the Moody Blues with walking piano lines and horn arrangements reminiscent of those found in swing/dance club music. There's even some occasional Celtic influences as well.
The quartet's sense of humor shapes the band's identity as much as their eclectic sound, as Cleveland offers tongue-in-cheek diatribes on wayward relationships, politics, over-analyzers, and temper-tantrum prone drama queens. The combination of music that sticks in listeners' heads upon first listen and lyrics that they will want to sing along is what makes Scrap Iron Sun's music so memorable.
Recently they released a new CD called "Recycled," with a new video for the song "Fuse," which can be found on Youtube. Check it out, and while you're there, look up their first four videos as well. Also, while you're here, check out the first CD, "Getting A Rusty Tan!" (Also, available as mp3 downloads at iTunes.)

Have you found the super secret hidden track "Nerves" yet? I didn't think so. Originally it was planned to put "Nerves" on the CD but then it was shelved for a later project. Unfortunately the song list on the back of the box wasn't changed before it was sent to the printer. So, since the jacket says it's there, and it's not, here it is!
Last Updated: May 17, 2014
WebMaster: Scott C. Cleveland
E-mail:corrosion@scrapironsun.com

Scrap Iron Sun is:
Scott Cleveland-Vocals, Electric Guitar, Keyboards, Harmonica
George Condon-vocals, Electric Guitar, Acoustic Guitar, Banjo
Ryan Bell-Bass Guitar, Back-up Vocals
David Condon-Drums